"Leadership Competencies That Promote Change" by Dr. John Lewis"
Thursday, February 25, 2016
4:00 p.m. – 5:00 p.m.
McKillop Library,
Munroe Special Collections Room 109
All are invited. Refreshments served.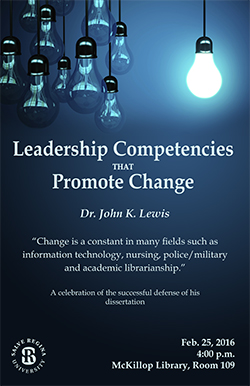 Change is a constant in many fields including information technology and academic librarianship. Advances in technology, shifting demands of faculty and students, declining budgets, and transformations in publishing and in other methods of acquiring scholarly research all contribute to this evolving environment. Information technology professionals and academic librarians working in this environment must cope with continuous change while still providing research support to their primary clientele: faculty and students. Dr. Lewis will present his dissertation findings that focused on determining which leadership competencies were most successful in supporting change and promoting a healthy and productive working environment for employees.

Dr. John Kennedy Lewis is the collection services librarian and an adjunct faculty member at Salve Regina University in Newport, Rhode Island. He recently completed his Doctor of Management degree at the University of Maryland, University College. His dissertation research focused on leadership competencies that promote successful change in rapidly changing environments such as academic libraries, information technology, nursing and the military. Dr. Lewis has over twenty years of experience as an academic librarian and over fifteen years of experience as an adjunct lecturer. Dr. Lewis also possesses a Juris Doctorate from Suffolk University and practiced law in the Commonwealth of Massachusetts for over five years. He also has a Master of Science in Information Systems from Salve Regina University and a Master of Library and Information Science from the University of Rhode Island. Dr. Lewis has presented and spoken at numerous national and international academic conferences, published in peer-reviewed journals, and contributed several encyclopedia articles to edited publications. His research interests include leadership, leadership competencies, sustainability, corporate responsibility, teaching and research methods, e-textbooks, and e-books.
Leave a comment
View all blog entries
---