Finding books in the catalog and on the shelves is easy, once you learn the basic steps:
1. Go to the library homepage at http://library.salve.edu/
2. In the search box, enter keywords, a title, or an author, then click "go."
3. On the search result page, you will see various choices available to refine your search on the lefthand sidebar. For example, you can limit your search by format, collection, publish date, or language. Under "Collection," you can limit a search to Salve only. Under "Format," you can limit a search to print materials or web resources: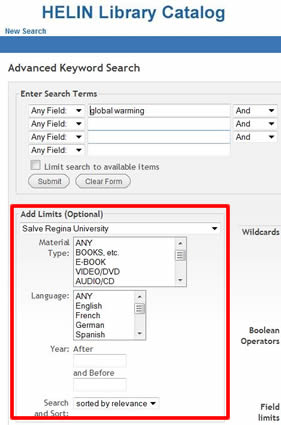 4. The catalog listing for each item includes location [which library has the item], status [whether the item is available or is checked-out], and call number information [where the item is located in the library].
Items located at McKillop Library have the location "Salve."
If a book is checked-out, its status will list a due date. If an item is not checked out, its status will say "available." (If a book is located at another school you can request the book by clicking on the "Request It" link.)
To find an item on the shelf, use the call number. Here is a chart to help you find where books and other items are located in the library: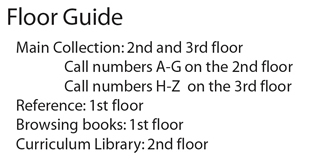 For a more detailed guide to finding books using the catalog, see our Find a Book and Find an E-Book pages. We've also created a short video tutorial to walk you through the process:

If you would like a quick in-person overview on how to find books (or if you need further help), stop by the information desk on the 1st FL of the library!