The library is still undergoing some construction, mostly on 3rd FL. Until further notice, the 3rd FL is closed and restricted to library staff only. If you need a book on the 3rd FL, library staff will retrieve it for you. Also the two study rooms on the 3rd FL are temporarily closed until the floor re-opens.
UPDATE: as of Sept. 22, the 2nd and 3rd FLs are open for use. We still have some cleaning and rearranging yet to do on both floors, but they are no longer restricted. Yay!
Remember that the 3rd FL is restricted to silent study.
Take a look at the Technology in the Library and the study rooms available along with what each study room contains.
When construction is finished, the entire main collection (about 150,000 books) will reside on the 3rd FL in compact shelves and we will gain extra study space on the 2nd FL. What are compact shelves? A way to allow a LOT of books to take up less space than using conventional shelving. View the video below to see a demonstration.
We are happy to announce that the Academic Center for Excellence, which includes the Writing Center and tutoring services is now located on the 2nd FL of the library. Housed in a beautiful, comfortable glassed-in space, the center is open for business 8:30 am to 4:30 pm Monday – Friday, and Tutoring is available 1-9 pm Monday-Thursday and 5-9 PM on Sunday.
We have a new catalog search interface called OneSearch. OneSearch is a new way to search multiple library resources simultaneously. OneSearch allows you to search for books, ebooks, DVDs, reference sources, online videos, and articles all from one search box. Try it by using the search box from http://library.salve.edu. For more information and a tutorial on how to use OneSearch, see our help guide.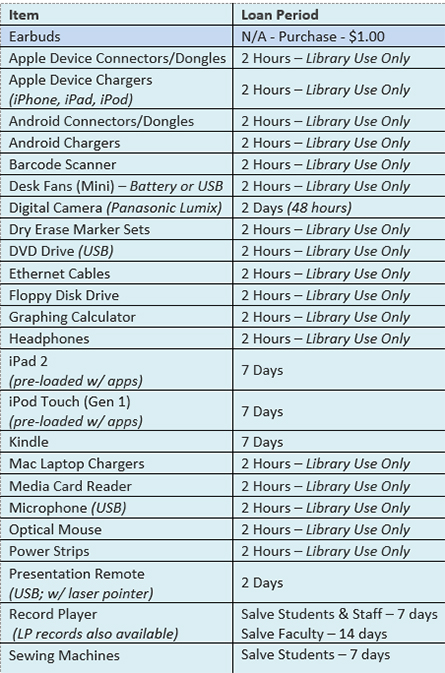 The library has a portable turntable for checkout at the circulation desk.  Students can check the turntable out for up to a week.  The Crosley Mini Turntable includes full range stereo speakers and an adjustable tone control.  It is enclosed in a handy carrying case.  The library also has a small collection of records available for circulation including Louis Armstrong, Ella Fitzgerald and the Grateful Dead.
See the Computers & Technologypage for the full list of technology available in the library.
On Wednesday afternoons from 1-4 PM beginning on Sept. 3, the Munroe Special Collections Room 109 will be open to use for quiet study or to ask archivist Genna Duplisea general questions. Details and updates will be posted to the Archives Twitter @SRUArchives.
We also have a series of workshops on various helpful topics, such as "How to Do Research" and citation styles. See below for topics and dates; don't forget to register if you are interested in a particular topic!
A Hello From Dawn Emsellem, Personal Librarian to the Class of 2018.
"Welcome to Salve! I'm Dawn Emsellem, the Class of 2018's personal librarian. I'm here to welcome you to Salve, and I'll be working with you throughout your four years here.
What does a class librarian do? I'm glad you asked!
Serve as your point of contact at the library. If I can't answer your question directly, I'll put you in contact with someone who can.
Give you a personal tour of the library. I can show you how to find books, articles, streaming movies and DVDs you need for your course work.
Help you find fun books and movies when you need a little relaxing diversion. You can also ask me to order books and movies that we don't have!
Be available to consult with you as you develop academically and your research needs change.
Work with you to develop library events and displays that are interesting to you. We can even display your art or course work, or create displays of your favorite genres, filmmakers, or authors.
Stop by any time for a visit, call, or email me….
Dawn Emsellem Wichowski
Class of 2018 Librarian
Research and Instruction Librarian
McKillop Library, Room 130
Salve Regina University
dawn.emsellem@salve.edu
direct: (401) 341-2336
Dawn's Hours:
Sunday 12 pm – 10 pm
Monday 9 am – 4:30 pm
Tuesday & Wednesday 4 pm – 10 pm
Thursday 9 am – 4:30 pm"
(-written by Dawn Emsellem)
A Hello From Lisa Kenyon, Personal Librarian to the Class of 2017.
"Welcome back Class of 2017! I met most of you last year during New Seminar Workshops but a few of you might have slipped by. My name is Lisa Kenyon; you can find me in the library Sunday through Thursday in room 129 or at the Information Desk. Last year we got started with the basics and I'm sure your classes will be even more challenging this year. Don't worry, you're not alone! Your personal librarian is just another of the many resources on campus to take advantage of.
What can I help you with? I'd be happy to:
Answer any questions you have about the library and our services.
Meet with you one-on-one to assist you with research for any of your courses.
Request materials from other libraries.
Work with you or a club or activity you are involved in to arrange a program or display in the library.
Stop by and say hi or send me an email (lisa.kenyon@salve.edu) any time. I look forward to another great year!
Speaking of fun library events, be sure to come to the library September 22 through 26 and celebrate your freedom to read at McKillop Library's Banned Books Week festivities including fun activities and contests. Look for a new blog post with all of the information coming soon.
Just a reminder that all of the librarians are always here to help. Ask us anything—we'll make sure you get the assistance you need. In addition to visiting us at the information desk, you can also call, text or email.
Leave a comment
View all blog entries
---